1. Introduction of Athleisure Wear
In a world where comfort meets fashion, athleisure wear has taken the spotlight. This trendy clothing style combines the best of athletic apparel and casual fashion, allowing you to effortlessly transition from the gym to everyday activities. 
According to a consumer survey, 14% of consumers have opted to purchase comfortable clothing, like pyjamas or athleisure, online since the onset of the COVID-19 pandemic.
2. What is Athleisure Wear?
Athleisure wear can be defined as a fashion trend that blurs the line between activewear and casual clothing. It encompasses comfortable and functional garments, such as leggings, hoodies, sports bras, and sneakers, that can be worn for both exercise activities and daily routines, offering a seamless transition from the gym to the streets.
3. Why Has Athleisure Wear Become Popular?
Athleisure fashion has gained immense popularity due to its perfect fusion of comfort, functionality, and style. With its breathable fabrics and stretchy materials, athleisure clothing ensures maximum mobility, making it ideal for both workouts and daily activities.
Furthermore, its versatility allows individuals to effortlessly transition from the gym to social gatherings without compromising on style. This trend has resonated particularly well with health-conscious individuals who prioritize both fitness and fashion in their lifestyles.
4. Benefits of Athleisure Wear and Fashion
Perfectly blending comfort, flexibility, and style, athleisure wear has become a go-to choice for health-conscious individuals. Let's dive into the amazing benefits it offers!
Comfort and Flexibility
Fashionable athleisure wear prioritizes comfort like no other. Crafted from breathable fabrics, it allows your skin to breathe, preventing discomfort caused by excessive sweating. The stretchable materials ensure unrestricted movement, providing a liberating experience during workouts or everyday activities.
Versatility for Various Activities
Gone are the days of changing outfits for different activities. Athleisure wear seamlessly transitions from gym sessions to brunch dates or even casual office wear. Its versatile nature saves you time and effort, giving you the freedom to conquer your day without compromising on style.
Promoting an Active Lifestyle
By donning fashionable athleisure wear, you're making a statement about your commitment to an active and healthy lifestyle. It serves as a constant reminder to prioritize physical activity, inspiring you and others to stay motivated and engage in regular exercise. It's like wearing your fitness goals!
Effortless Style
Looking good doesn't have to be a tedious task. Athleisure wear effortlessly combines fashion and functionality, allowing you to exude style without sacrificing comfort. From trendy ribbed leggings to chic joggers, these outfits help you achieve a fashionable look with minimal effort.
5. SEFI's Key Pieces for the Perfect Athleisure Wardrobe
When it comes to building the perfect athleisure wardrobe, SEFI has got you covered with its top-notch products. Whether you're hitting the gym, going for a run, or simply lounging around, SEFI offers a range of stylish and functional womens activewear that will keep you comfortable and on-trend. Let's dive into their key pieces:
Athletic Leggings and Yoga Pants
Silhouette 7/8 Legging - Midnight
SEFI's athletic leggings and yoga pants are a must-have for any fitness enthusiast. Made from high-quality materials, these leggings provide the perfect balance of comfort and support. With moisture-wicking properties and a flattering fit, you'll feel confident and ready to conquer any workout. From ribbed leggings to high-waist leggings, you will find everything at SEFI.
Sports Bras and Crop Tops
Timeless Ribbed Square Bra - Sunstone
For the ladies, SEFI offers a collection of high impact sports bras and crop tops that provide excellent support and style. Designed with breathable fabrics and adjustable straps, these bras ensure a comfortable fit during intense workouts.
The long sleeve crop tops are perfect for layering or wearing on their own, adding a fashionable touch to your athleisure look.
Hoodies and Sweatshirts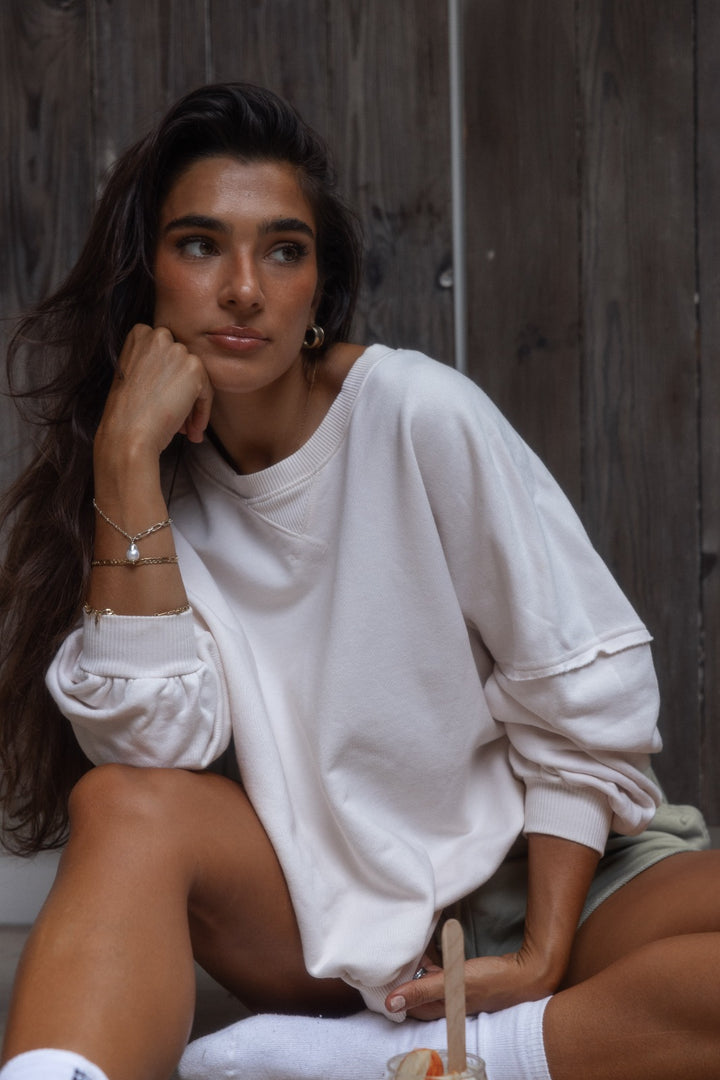 Essential Sweatshirt - Moonstone
SEFI's hoodies and sweatshirts are the epitome of cozy and cool. Crafted with soft and durable materials, they are ideal for both workouts and casual outings. With a range of designs and colors to choose from, you can effortlessly elevate your athleisure game while staying warm and comfortable.
Sneakers and Running Shoes
Complete your athleisure wardrobe with SEFI's stylish sneakers and running shoes. Engineered with advanced cushioning and support technology, these shoes offer the perfect blend of comfort and performance. Whether you're hitting the track or running errands, SEFI's footwear will keep you looking and feeling great.
Joggers and Track Pants
SEFI's joggers and track pants are the ultimate combination of comfort and style. Made with soft and stretchy fabrics, these bottoms allow for unrestricted movement while maintaining a fashionable silhouette. Whether you're relaxing at home or running errands, our essentials joggers and track pants are a versatile addition to your wardrobe.
6. Athleisure Wear for Different Occasions
Whether you're running errands, hitting the gym, jet-setting, or enjoying a leisurely weekend, athleisure wear has got you covered. Let's explore how to rock this trend for different occasions!
Casual Everyday Outfits 
Athleisure fashion wear is perfect for your casual daily looks. Pair a trendy sports bra with high-waisted leggings, throw on a loose-fitting hoodie or a cropped jacket, and complete the ensemble with some fashionable sneakers. Effortlessly stylish, comfortable, and ready to conquer the day!
Gym and Workout Attire
When it's time to break a sweat, athleisure wear excels. Opt for moisture-wicking leggings or shorts paired with a supportive sports bra or tank top. Layer with a lightweight jacket for outdoor workouts. Gym shorts women's range is also very trendy these days. Remember, functional fabrics and proper fit are key to enhancing your performance. 
Travel and Airport Looks
Travelling can be exhausting, but athleisure wear makes it a breeze. Choose stretchy joggers or yoga pants for comfort during long flights. Layer with a soft, breathable tee and a versatile hoodie or a cardigan. Don't forget slip-on sneakers for easy security checks!
Weekend Errands and Brunch
Dressing up for weekend errands or brunch has never been so comfortable. Slip into a trendy jumpsuit or a flowy midi dress made with stretchy fabric. Layer with a denim jacket or a cosy knit cardigan. Finish the look with stylish trainers for an effortlessly chic vibe.
Also Read: Find the Perfect Gym Clothing for Women & Girls
7. Conclusion

With its unparalleled comfort, versatility, and ability to promote an active lifestyle, athleisure wear has revolutionized the way we dress. It offers the perfect blend of fashion and function, catering to the needs of health-conscious individuals who value both style and comfort. Embrace this trend and elevate your everyday style with SEFI Clothing!!
SEFI understands the needs of health-conscious individuals, and its products are designed to meet the demands of an active lifestyle. With a focus on quality, functionality, and style, SEFI ensures that you can look and feel your best while pursuing your fitness goals. Don't miss out on the opportunity to elevate your athleisure game with SEFI's key pieces!
8. FAQS
What is athleisure wear?
Athleisure wear refers to clothing designed for both athletic activities and casual wear. It combines elements of sportswear with fashion, featuring comfortable and functional pieces like leggings, sports bras, hoodies, and sneakers.
How can I incorporate athleisure wear into my everyday style?
To master the athleisure style, start by pairing athletic essentials like leggings or joggers with casual tops such as oversized tees or crop tops. Add fashionable sneakers, layer with jackets or hoodies, and accessorise with statement pieces to complete your look.
Can I wear athleisure to the office or formal events?
While athleisure wear is more suitable for casual settings, you can add subtle athletic touches to your office or formal outfits. For example, pair tailored pants with sleek sneakers or opt for a blazer over a sporty dress for a stylish yet professional look.
How do I choose the right athleisure pieces for my body type? 
Consider your body shape and personal preferences when selecting athleisure wear. Opt for high-waisted leggings or pants to accentuate your waist, choose sports bras or tops with proper support, and experiment with different silhouettes to find what flatters your figure.
What are some key tips for mastering the athleisure style? 
First, prioritise comfort and functionality. Mix athletic and casual pieces creatively, layering them with versatile items like jackets and cardigans. Pay attention to fabric quality, balanced proportions, and accessorise thoughtfully to create a polished athleisure look that suits your personal style.